Fight For Your Rights Today
May 12th is the day! Stop homelessness. Stop hunger. Stop the oppression on the middle class by the wealthy.
The American middle class have been phased out. New York is now comprised of two
categories ~ the wealthy or the poor.
Working Americans are forced out of jobs to rely on food pantries to
feed their families. American
middle-class homeowners are rapidly becoming extinct as the wealthy continue to
prosper.
This May 12th, 2011, the people of New York are
coming together. All races,
colors, religions and cultures are joining together as one to shout the message
loud and clear. From Wall Street to Capitol Hill the American people say "enough!"
If you are fed up with being tired, poor, hungry and
dismissed, join the Rally today.
Visit http://www.onmay12.org/action/action-logistics/
for assembly information and how
to get involved.
Assembly Schedule: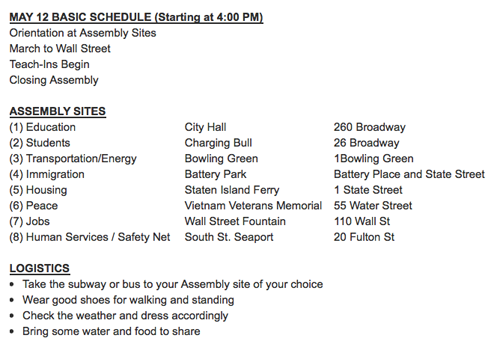 Post your comments directly online or submit them to milton@blackstarnews.com to avoid truncation.


To advertise in New York's leading weekly investigative newspaper,
please call (212) 481-7745 or send a note to Milton@blackstarnews.com .

"Speaking Truth To Empower."

February 22,2018 @ 08:03 PM

I think you have "Filtered HTML" turned on here. If you switch to "Full HTML," it will probably...
googletag.pubads().definePassback('6785150/BENN/BlackStarNews', [[300,250]]).setTargeting('fold',['BTF']).display();