TPNO Professionals of Color Honors
Savvy professionals understand that when Tony Herbert announces an event, they'd better be in that room, because Tony is going to get on the mic, and make those corporate leaders aware of The Professionals they should be doing business with.
The stars came out at Slate Wednesday night to celebrate The Professionals Network Organization's (TPNO) 10th Annual Salute to Professionals of Color.
Hundreds convened at Chelsea's luxury hot spot to sip their spirit of choice and munch delectable treats, while paying homage to their heroes and peers. Conjure increased the excitement by providing free samplings of their smooth and effective cognac.

A somber undertone lurked, however, as The Professionals mourned and consoled Tony Herbert, Founder of TPNO, in his time of personal tragedy. Mr. Herbert, who also heads the Save Our Community Initiative (SOCI), a project created to save children and youth, focusing on the eradication of gun violence, has participated in campaigns and vigils that have resulted in the arrest of murderers of women, children and other innocent bystanders. He recently assisted an anxious and bewildered grandmother in the return of her 11-year-old granddaughter who went missing on September 14th. Two days later, Tony Herbert's own nephew, 23-year-old Lawrence Andre Sykes, was shot to death in an unrelated incident.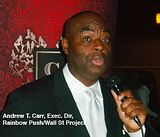 Braving his devastating experience, Tony Herbert persevered and proceeded to present TPNO awards to legendary radio personality, Ken "Spider" Webb, who received the Professionals People of Color Lifetime Achievement Award; Fox 5 News Anchor, Dari Alexander and WPIX Channel 11 Early Morning News Anchor, Craig Treadway, received the Excellence in Broadcast Journalism Award; Andrew T. Carr, Executive Director of the Rainbow PUSH/Wall Street Project received the Corporate Business Leadership Award, 98.7 KISS FM radio personalities,




Shaila Scott and Fred Buggs, of 98.7 KISS FM received the Excellence In Radio Broadcast Journalism Award. Past Lifetime Achievement recipient, Big Brother of Radio, the legendary Bob Slade of 98.7 KISS FM accepted the award for Buggs. Harlem Clergy and Community Leadership Coalition Executive, Rev. Vernon Williams received the Distinguished Community Service Award and Dr. Catrise Austin, Owner of VIP Smiles (Dentist to the Stars) received the Entrepreneurial Excellence Award.
Shaila Scott anecdoted her early beginnings, emphasizing the importance of conscious networking, revealing how a networking event much like TPNO's led to her success in broadcasting.
* "Established in 1996, The Professionals Network Organization (TPNO) a coalition of over 10,000 plus, non-partisan young ethnically diverse business professionals, entrepreneurs, community, and business leaders; have established themselves as the premier network for those who look to be empowered economically, politically, and socially.
With Chapters throughout the East Coast, The goal of (TPNO) is to meet the diverse business needs of it's growing membership through a series of programs and events that provide effective networking value, and to assist our network members in becoming residents of an..."Ownership Society".
TPNO's key objective is to establish links between the organization to the community; as well as the corporate, and political sectors. It is through these relationships it becomes possible for all parties to nurture ongoing opportunities for access and success. In addition, we play host to some of the most powerful networking events, forums, and roundtable discussions." *
Other distinguished guests included Ryan Mack, Founder and President of The Optimum Institute of Economic Empowerment who has a powerful new project on the rise. Mr. Mack says he's doing for Finance what Kirk Franklin did for Gospel with his new initiative entitled, "The Money Movement", Also in attendance was Andrew Morrison, Founder of Small Business Camp and The 16 Week Challenge. Morrison helps ordinary people succeed in an identified goal within 16 weeks
. TheSocialMedia BombCom was in the building, Wilton Wallace, Senior Associate at Matlock Advertising & Publiic Relations was present, Pernon Dunston, Vice President of National Allotment Insurance Agency and #1 Star Entertainment, Popular jazz crooner, Tony Middleton and hundreds of other professionals of note.
The theme of the evening was clear. Support one another and pull each other up. Professionals in attendance agreed that TPNO's conscious networking events are a very effective way to connect with your ideal market or audience.
*From TPNO's website www.theprofessionalsnetworkusa.org
Brenda Jeanne Wyche is Managing Editor of The Black Star News and Harlem Business News.
Post your comments directly online or submit them to milton@blackstarnews.com to avoid truncation.
To advertise in New York's leading weekly investigative newspaper, please call (212) 481-7745 or send a note to Milton@blackstarnews.com
"Speaking Truth To Empower."
February 22,2018 @ 08:03 PM

I think you have "Filtered HTML" turned on here. If you switch to "Full HTML," it will probably...